Filter by Category
Health and Healing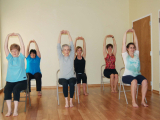 Chair Yoga
with Miranda Hope

Apr 5, 2018 at 2:30 pm

, runs for 6 weeks
No matter what age you are or what condition you are in, you can experience the health benefits of yoga. Even if you are the laziest person in the world, you'll love Chair Yoga and get many of the benefits of yoga -- relaxation, peace of mind, increased flexibility and strength in the body.
Miranda Hope is a certified yoga instructor who has taught since 2001. Most recently, she has taught classes at Stonewall Abbey, Rappahannock County Elementary School, White Flower Studio in Warrenton, and the YMCA. She taught chair yoga for four years at the Veterans Administration Hospital and frequently substituted in an elderly living facility. She loves chair yoga because it's all the best of yoga--the stretching and strengthening, the meditation and breath work--without all the sweating and pretzeling.
Full Course
Hearing - Why You're Losing It, How to Deal With It
with Bruce Sloane

Mar 20, 2018 at 1 pm

, runs for 5 weeks
This course addresses hearing loss—a major health problem by instructing participants in the basics of sound and ear anatomy; how we hear; what can go wrong? outer, middle, and inner ear diseases; getting your hearing tested; audiologists; audiograms; presbycusis; tinnitus; hearing aids, what they do and don't do; living with hearing loss; cochlear implants—getting tested, insurance coverage, cochlear implant surgery, getting used to them; children and hearing loss; and other topics.
Bruce Sloane wore hearing aids for 35 years and watched his hearing fade decibel by decibel over the years. Finally, 18 months ago at age 81, he decided to get tested for a cochlear implant. This fantastic device has given him back his life. As a mentor for Cochlear America, he counsels hearing impaired individuals who are considering hearing aids or a cochlear implant. He has a blog about cochlear implants on the website of the American Cochlear Implant Alliance, has published articles in the emagazine Listening, and will have a short article in March in USA Today.
In his other life he has been a geologist, technical writer, and author of travel books and the ebook Tales of Shirt Tail Hollow. He lives outside Sperryville with his wife Joy in her childhood home at the end of Old Hollow. Their daughter, Amy Sloane Timbers, is a real estate broker in Washington, Va. She lives in Woodville with husband David Timbers. Their other daughter, Karen Sloane, is an IT guru in Pennsylvania and is currently wandering around Australia.
Not So Common Sense Tips for Dog Lovers/Owners
with Madeleine Prince

Apr 29, 2018 at 1 pm
This class offers one two-hour discussion of helpful tips centering around holistic pet care and safety. Students should come with questions to ask. (No veterinary advice will be given.)
Madeleine Prince has years of dog health care experience, both in the home and the veterinary hospital settings. She has a veterinary technology degree as well as extensive experience as a veterinary pharmaceutical and consultation professional.