Filter by Category
Rappahannish
Rappahannock County and the Civil War
with John Tole

Apr 25, 2018 at 6 pm

, runs for 5 weeks
This class covers Rappahannock County and it residents before, during, and after the Civil War Where possible, the local history is discussed in the context of national events. Among the topics covered:
* The many economic, social, and political factors from early colonization through the 1800s that eventually led to the Civil War
* Slavery and other aspects of the County economy prior to the war
* The County's role in secession
*The experiences of the over 1100 county men who served in the Southern Armies and the several dozen who fought for the North.
* The occupation of the County by the Union Army of Virginia in the summer of 1862 including detailed discussion of the many varied personalities that formed this short-lived army
* The Confederate advance and retreat to the Battle of Gettysburg much of which passed through Rappahannock County
* Local African-Americans and Mosby Rangers
* Effect of Reconstruction on the County
At appropriate points, musical samples illustrating abolition, politics, patriotism, homesickness, post-war, and other sentiments will be presented.
Field trips to some local sites may be arranged, depending on interest.
Dr. John Tole is an engineer, historian, musician, and tree farmer who has resided in Rappahannock County for 34 years. He is a native of Washington, D.C. with Civil War roots in both New York and the Shenandoah Valley of Virginia: one great-great-grandfather was a Union naval officer; another was a member of the Stonewall Brigade in Lee's Army of Northern Virginia. He taught and conducted research in engineering at M.I.T. (where he received his doctorate) and elsewhere and has spent many years in technical endeavors.
John is president of the Rappahannock Historical Society (where his wife, Judy, is the Executive Director). He has co-authored several books on local history, lectured on various Civil War topics, and is the program manager for the County's Civil War Trails project that erected 33 local roadside markers about Rappahannock's role in the War. He is also the managing partner of the musical duo Evergreen Shade whose repertoire includes American period music from colonial days to the present including a large repertoire of Civil War era tunes.
Will run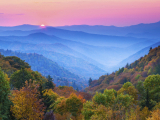 Women Writing Appalachia: Exile, Return, and Sense of Place
with Denise Horton

May 1, 2018 at 2 pm

, runs for 3 weeks
"...Appalachia instills in its residents an abiding sense of place that fortifies those who stay and consoles, beckons, or haunts those who leave." Emily Satterwhite, Associate Professor of Appalachian Studies, Virginia Tech
This class is a whirlwind literary course for readers, writers, lovers of Appalachian culture, music, and folkways. It is meant to open a dialogue, through literature, about the changing eco-structure of the place we live, and the gravid literary consciousness that reveals itself in its singular and evocative books, plays, stories, and poems. Framed by the perennial Appalachian themes of Exile, Return and Sense of Place, we will listen, read, and explore three texts:
Listen Here: Women Writing in Appalachia Sandra L. Ballard, Patricia L. Hudson (Editors)
Bloodroot: Reflections on Place by Appalachian Women Writers Joyce Dyer (Editor)
Enchantee by Angie Estes (Twice nominated for a Pulitzer Prize/poetry, Estes is a daughter of Rappahannock County)
Participants are asked to buy these three texts (rental on amazon may be available.) In addition, the instructor will supplement with additional voices.
Denise Horton Ph.D. is a Harvard-trained Jungian psychologist, artist, and published writer. She is a former member of the Washington Center for Psychoanalysis 3-­year writing program: New Directions: Writing with a Psychoanalytic Edge. She will be attending the Hindman Settlement School Appalachian Writers' Retreat this Spring.